I finally have both CD's I as expecting of the Bar Mitzvah pictures, and they have been refomatted to a reasonable size for posting.
Again, I only have pictures from the dessert buffet and the Sunday brunch, since we aren't allowed to take pictures at shul on Friday night and Saturday until sunset.

Beorn next to the dessert buffet before everyone started arriving.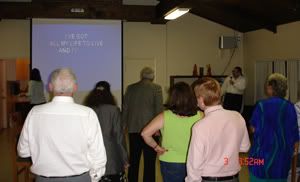 Everyone singing "I Will Survive" by Donna Summer. I have video clips to upload, but I can't seem to figure out what to do on photobucket to upload them. :::sigh:::



Paul played DJ for the karaoke. He did a great job, too!



Hubba, Hubba!



The undecorated, but whole, Torah-shaped cake I made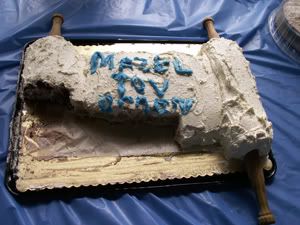 The decorated Toah-shaped cake. We forgot to take a picture before we cut into it. The scrolls were chocolate jelly rolls with chocolate filling, and the center was white cake with chocolate filling.

Here are some pictures of guests enjoying the buffet.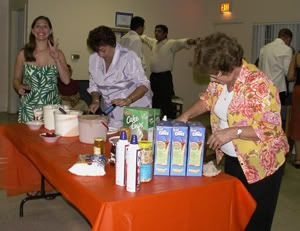 Sunday morning we hosted our out of town guests for a NY Deli-style brunch. Dick (Paul's dad) brought up nova and belly lox and a whole smoked whitefish that Deli Den filleted for us.


There are pictures of guests and us enjoying ourselves on my photobucket
Gator Pam - Bar Mitzvah
album. Password: simcha.
LMK if you think I should post anymore here with further descriptions.